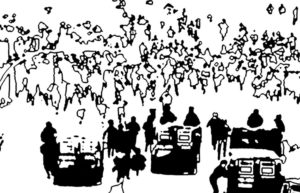 The 43rd edition of the Euskal Zine Bilera festival has announced the winners. Of the nineteen works, the Best Film Award went to Bego Vicario's 'Ehiza' and the Best Director Award went to Aitor Mendilibar and Ibon Goikoetxea for 'Irten barrura'.
The festival Zine bilera, which was held this year on line because of the circumstances, closed the doors of the 43rd edition last night announcing the awards of the winning works. In total there have been nineteen films that have participated in the appointment of Lekeitio. The judges have said that "there has been an enormous level". Throughout the festival there have been very different works of gender and nature and, through this diversity, "There has been an opportunity to enjoy spectacular and interesting stories", add the organization.
But as in all festivals, among all these films there have been three that have been imposed. Aitor Oñederra, Erika Olaizola and Mikel Rueda were responsible for deciding the winners. " The judges with experience and vision of the audiovisual sector have had a great challenge to choose the best among the short films"
The Best Film Award went to 'Ehiza' by Bego Vicario. The judges said that "it is a courageous proposal and a work of spectacular animation, which masterfully uses the technique of rotoscopy and maintains an excellent rhythm throughout the film".
'Ehiza' is a black and white animated film that aims to be the continuation of the short film 'Homenaje a Tarzán', made by the artist from Donostia Rafa Ruiz Balerdi in 1969, one of the first animated films in Basque.